Pumpkin Theatre Presents World Premiere  
 

of Quest of the ZIZ Bird based on Children's Book
The Hardest Word by Jacqueline Jules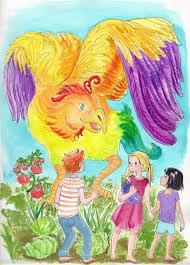 (BALTIMORE) Pumpkin Theatre continues our 45th Anniversary Season, "A Celebration of Imagination" with Quest of the ZIZ Bird.  A NEW PLAY with book and lyrics by Pumpkin Theatre Producing Artistic Director, Jimi Kinstle and music by Ryan Michael Haase (Artistic Director, Stillpointe Theatre Initiative) based on the children's book The Hardest Word, by Jacqueline Jules. Quest of the Ziz Bird has been adapted to the stage by Pumpkin Theatre in collaboration with the Louise D & Morton J Macks Center for Jewish Education (CJE) (www.cjebaltimore.org) and the PJ Library as part of an outreach project for both organizations.
The Ziz is a giant bird from Jewish mythology. This story is about taking responsibility and learning to say you're sorry. This Ziz musical will include a 7 foot puppet controlled by three female actors. One day, while carelessly celebrating, the Ziz accidentally falls into and destroys the children's garden. This large, child-like beast then has to learn how to make amends for its actions and goes on a quest to find the "hardest" word and learn to say "sorry."
Performances take place at 1 pm and 3 pm on January 26, 27, February 2, 3 at St. Timothy's School, 8400 Greenspring Avenue. 3 play Subscription Packages still available for $38 and include Dorothy and the Wizard of Oz and Lilly's Purple Plastic Purse. Individual tickets are $14 in advance, $16 at the door and available by calling the box office at 410-828-1814 or purchasing ONLINE by visiting our website at www.pumpkintheatre.com
Quest of the ZIZ Bird is directed by Jimi Kinstle (book and lyrics) with music and musical direction by Ryan Michael Haase, costumes by Heather Jackson, set by Ryan Haase, lighting by Heather M Mork, Puppet Creation by Valarie Perez-Schere and features actors Danielle Robinette (Citypaper Best Actress 2011), Amanda Rife and Jayne Harris portraying/controlling the Ziz Bird. Vanessa Kinsey Bergolis, and teenagers, Jory Holmes, Paris Weeks and Liz Tilley are also featured.
On January 27, the author Jacqueline Jules and illustrator

Katherine Janus Kahn will be doing a book signing after both the 1pm and 3pm performances at 8400 Greenspring Avenue, St. Timothy's School. Jacqueline is the award-winning author of 24 children's books, including Zapato Power: Freddie Ramos Takes Off (2010 CYBILS Literary Award for Short Chapter Book, Maryland Blue Crab Young Reader Honor Book, ALSC Great Early Elementary Reads), Unite or Die: How Thirteen States Became a Nation (2010 Library of Virginia Cardozo Award), Benjamin and the Silver Goblet (2010 Sydney Taylor Honor Award), Duck for Turkey Day (Washington State Children's Choice Book Awards list, TN Volunteer State Award), and No English (2012 Forward National Literature Award for Picture Books). Also a poet, Jacqueline won the Arlington Arts Moving Words Contest, Best Original Poetry Award from the Catholic Press Association, and the SCBWI Magazine Merit Poetry Award. 
Don't miss the excitement of our 45th Anniversary Season! For information on Pumpkin Theatre's season, special events, education programs, camps, or to sign up for our e-mail newsletter, please visit us at www.pumpkintheatre.com.