Bible Stories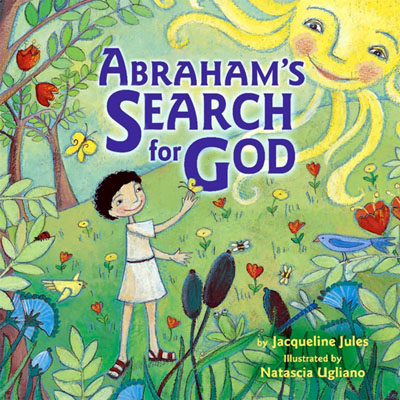 Illustrated by Natascia Ugliano
Abraham's Search for God
"Who made the clouds?" Abraham asks. "Who made the flowers?" Even as a child, he knows there must be something greater than idols of clay and stone. As he observes and questions the world around him, Abraham comes to the conclusion that there is only one God. A creative midrash about the father of the world's religions.
2008 Notable Book for Younger Readers, Sydney Taylor Book Award Committee
A PJ Library Selection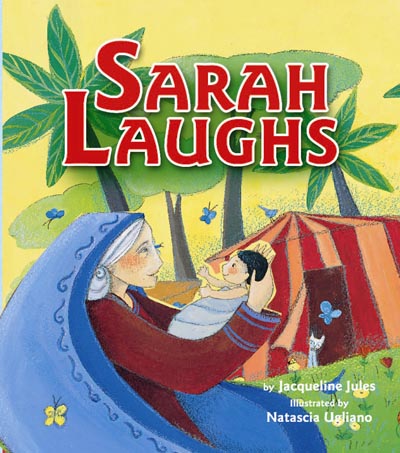 Illustrated by Natascia Ugliano
Sarah Laughs
One day, Abraham told his wife, Sarah, he had heard a voice.
"What did it sound like?" she asked.
"Like a bird singing, like the wind in the trees, like every sound in the universe rolled into one.
"What did the voice say?" Sarah asked.
"That we should move to a new place."
Sarah knew this meant they would have to leave their comfortable home. But she also knew Abraham had heard God's voice.
Sarah took a deep breath. "We must go."
2009 Sydney Taylor Honor Award Winner for Younger Readers
A PJ Library Selection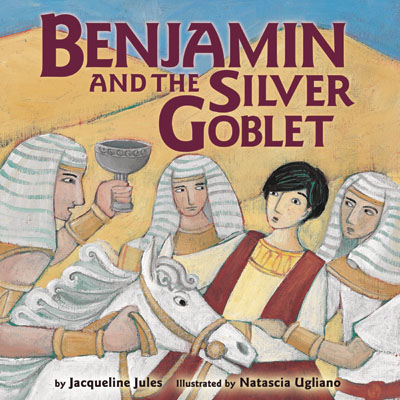 Illustrated by Natascia Ugliano
Benjamin and the Silver Goblet
When drought befalls Canaan, Jacob's sons travel to Egypt looking for food. They do not recognize their brother Joseph, now governor of the land, who wonders whether his brothers have changed since the day they sold him into slavery. Joseph hides his silver goblet in youngest brother Benjamin's pack as a test for his brothers. Would they abandon Benjamin, too?
Told through the eyes of young Benjamin, the story of Joseph's test and the dramatic reunion of the brothers will capture the imagination of readers young and old.
2010 Sydney Taylor Honor Award for Younger Readers
PJ Library selection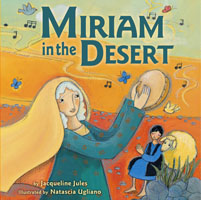 Illustrated by Natascia Ugliano
Miriam in the Desert
The Israelites have been freed from slavery in Egypt and follow Moses through the desert. On their journey, Miriam comforts them through hunger, thirst, and endless wilderness. Her grandson Bezalel draws pictures in the sand as he dreams of miracles. When his great-uncle Moses climbs the mountain to receive God's laws, Bezalel learns he is the artist chosen to craft the Holy Ark.
Named 2011 Notable Book for Younger Readers by the Sydney Taylor Awards Committee
Reviews:
"This simply told tale [Abraham's Search for God] is an excellent introduction to the concept of monotheism, and would be a great discussion starter for talking about God. Its neutral stance makes it useful for readers of many faiths" -- School Library Journal

"Ugliano's scenes of an ancient biblical community and one child's connection to the natural surrounding world in soft pastel/crayon tones couple the abstract concept of a universal spiritual entity with an introduction to the father of Judaism, Christianity and Islam. A promising presentation for early childhood religious instruction." -- Kirkus Reviews

"Young readers will find much to connect with in Abraham's curiosity about the world as voiced in the accessible text: "Who made the clouds? Who made the flowers?... Ugliano's stylized, playful pastels have a creamy, textured appearance, emphasizing the rich earth tones—blue, green, yellow—of the natural world that Abraham observes." -- Publisher's Weekly

"Joyful images of the boy and the smiling sun, flowers, and butterflies will attract children, who will enjoy the legend of the strong child who grows up to tell others about One God and to father three great religions:Judaism, Christianity, and Islam." -- Booklist
"Through poetic language and sweeping illustrations, this picture book tells the story of the biblical patriarch and matriarch Abraham and Sarah from Sarah's point of view. . . This lovely retelling deserves a place on the shelves of any library that collects religious materials." -- Heidi Estrin, School Library Journal
"The Old Testament says little about Sarah's feelings, so this moving picture book draws on midrash (legend) and on modern biblical commentary to imagine the inner life of Abraham's wife." Hazel Rochman, Booklist
". . . [Sarah Laugh's] is an epic story presented as an accessible human drama." -- Horn Book Guide, January-June 2008.
"Presented with a feeling of rich vocabulary and thoughtful writing, we see Sarah as a young woman whose laugh gave joy to all who heard it. . . . This is a gentle retelling of an old story that is dense with details and studded with life lessons without being didactic or too wordy. It will be a useful and well read addition to any library." -- Sheilah Egan, Children's Literature
"It isn't often you run across a biblically-themed picture book that's as beautifully written as this one [Sarah Laugh's]. Jules, with her poetic turn of phrase, has done an excellent job making this story interesting to young children and adults alike. -- Christian Children's Book Review
"This text about Sarah, Abraham's wife, positively sparkles with energy and life, making readers want to know this remarkable woman. . . . The illustrations are as outstanding as the text. -- Anita Cain, CBA Retailers+Resources, February 2008
"Bright charming illustrations blend beautifully with this very human retelling of the birth of Isaac. They add a sense of place, time and character that girls especially will find interesting and inspiring. Sarah Laughs is a 'clap with joy' winner!" -- Deanna Silverman, Ottawa Jewish Bulletin
"[Sarah Laughs] has a lot of child appeal. Colorful tents, sheep, cattle, baskets and jugs, decorate the pages. The succinct text on each page makes the story brief enough to read aloud to young children, in groups or individually. -- Jewish Book World
Bible series "happily recommend[ed]" by Vicki Streiff, InterfaithFamily.com
"This author and illustrator offer 2 glorious books [Abraham's Search for God and Sarah Laughs] that easily allow you and your children the privilege of learning about these important spiritual ancestors. Be sure to connect their stories to modern questions and hopes while explaining their crucial importance in your faith heritage." -- Picture Book Theology, June 29, 2015
"A fine introduction to the biblical tale for young readers, with a strong message about the importance of forgiveness and family." -- School Library Journal.
Benjamin and the Silver Goblet is an "excellent and unusual re-telling of a biblical story." -- The Association of Jewish Libraries
"Well paced and well told, this familiar story [Benjamin and the Silver Goblet] makes itself fresh with a folkloric feel and a satisfying ending." -- Kirkus Reviews
"The text is so engaging, the characters so involving, the volume [Benjamin and the Silver Goblet], with its three-hanky ending, is highly recommended."-- AJL Newsletter, February, March 2009.
"This tale is a wonderful example of remorse for past mistakes and the love of a reunited family. I highly recommend the book [Benjamin and the Silver Goblet]." Home School Book Review, January 27, 2010
"This warm, celebratory book adds a human element to the Israelites time in the desert, and along with the others in Jules and Uglianos Bible series (Abrahams Search for God, 2007; Sarah Laughs, 2008; and Benjamin and the Silver Goblet, 2009) provides a good entry point to talk about drawing stories and messages from Bible passages." -- Booklist, November 15, 2010.
"Deeply colored pastel-and-acrylic double-page paintings effectively portray a legendary biblical setting in a guileless and unsophisticated style; the deep ochres and blues of the desert landscape provide a warm backdrop that takes the edge off the misery of the Israelites. They effectively match the original and simple dialogue-driven text."-- Kirkus Reviews, August 1, 2010.
"A Bible legend comes to life in Jacqueline Jules's lovely tale of Miriam, sister of Moses and wise woman of her people. . . . Jules retells this legend . . . in poetic and evocative language. Young children will be eager to join in the refrain." -- AJL Newsletter, September/October 2010.
"Ugliano's palette of blues, oranges, and greens exudes maternal warmth, and the compositions' curvilinear lilt is fitting for a character with such strong associations to music making and dancing." -- Publishers Weekly, September 6, 2010.
"This simple story [Miriam in the Desert] is perfect for young children learning both their basic Bible stories, and a little about the personality of God. The pictures do a wonderful job of conveying both the frustrations and the hope of the Israelites. We give it a 5 out of 5." -- Three Turtles and Their Pet Librarian blog, January 8, 2011.
"Miriam in the Desert is a superb weaving of legend and Talmud creating access for any age reader into the journey that took the Jews across the desert. . . . Jules' marvelous visual text and a rhyming song are perfectly complemented by Ugliano's engaging illustrations." -- Jewish Book World, Winter 2010.
---
See the Bible Series Book Trailer
Read "The Bible: A Book Loaded With Role Models," a blog by Jacqueline Jules