Zapato Power Series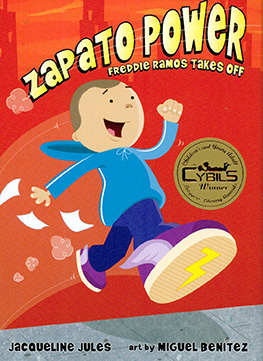 Freddie Ramos Takes Off
In this first book of the Zapato Power series, Freddie comes home from school one day and finds a strange box just for him. What's inside? ZAPATO POWER -- shoes that change Freddie's life by giving him super speed! But what will Freddie do with his fast new skills? Weird things are happening at the Starwood Park Apartments where he lives, and his friends at school need his help. Is Freddie Ramos ready to be a hero? In this imaginative story, an ordinary boy in a city neighborhood learns how to use his new-found powers for good. Illustrations by Miguel Benitez lend just a touch of comic-book style to this chapter book adventure.
Winner of the 2010 Cybils Literary Award, Short Chapter Books Category.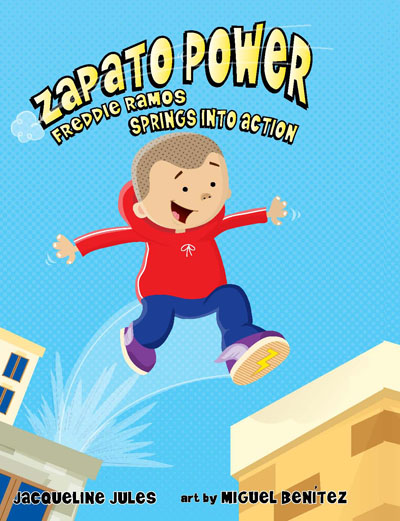 Freddie Ramos Springs Into Action
In this book, Freddie finds it's hard to be a superhero and a regular kid at the same time. There aren't too many superhero jobs at elementary school. And super speed is not easy to keep secret. Can Freddie learn how to control his super speed in time to help out a friend in trouble? With comic-book style illustrations and large font, this chapter book continues to provide adventure, mystery, and a lovable main character for reluctant and newly independent readers.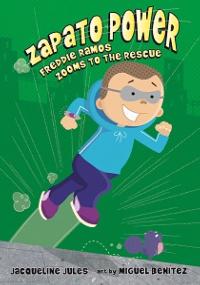 Freddie Ramos Zooms to the Rescue
When a big storm hits town, strange things take place! Trees keep falling down, and Freddie needs to use his super speed to stop a disaster from happening. Plus, there's a squirrel loose at school. But not just any squirrel--a purple squirrel! And the principal is acting extra weird. But why! It's nothing Freddie Ramos can't solve with the help of his Zapato Power!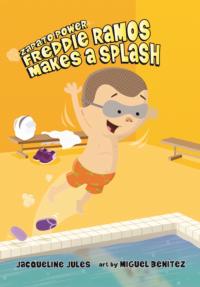 Freddie Ramos Makes a Splash
Freddie Ramos's adventures continue!

Thanks to his superpowered zapatos, Freddie is the neighborhood superhero. However his summer's off to an iffy start. Freddie's learning to swim at camp, but he hasn't even put his face in the water yet.

When a bully shows up at Starwood Park, Freddie's shoes go missing. Is the bully to blame? And how can Freddie investigate without his zapatos' super-speed?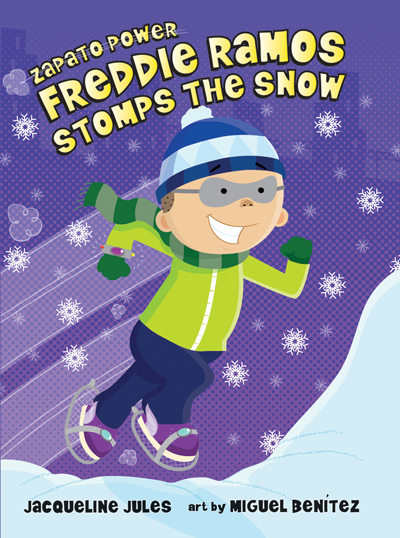 Freddie Ramos Stomps the Snow
When a freak spring blizzard buries Starwood Park, Freddie works with Mr. Vaslov to clear the sidewalks using a new invention—Zapato Power snowshoes! But not even the snow can stop a thief from causing trouble in the neighborhood. Can Freddie solve the case, even if it means helping Erika, the Starwood Park bully?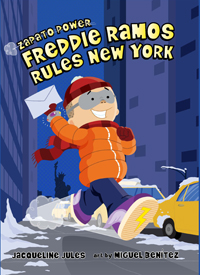 Freddie Ramos Rules New York
Freddie and his mom are visiting Uncle Jorge in New York City! Just before they leave, Mr. Vaslov gives Freddie a new pair of zapatos to replace the ones that were getting too small. But Freddie worries if his new zapatos will work as well as his old ones. Will Freddie be able to save the day when Uncle Jorge misplaces an engagement ring in the middle of a New York City traffic jam?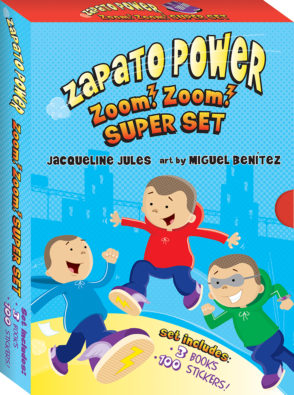 Triple the fun! The first three books in the award-winning Zapato Power series are all boxed up. In this imaginative chapter book series, an ordinary, city boy learns how to use his super speed for good. The boxed set includes: Freddie Ramos Takes Off, Freddie Ramos Springs into Action, and Freddie Ramos Zooms to the Rescue.
See the whole Zapato Power Series on the Albert Whitman website.
Awards and Honors
Beverly Cleary Children's Choice Award Nominee
Maryland Blue Crab Young Reader Honor Award
Great Early Elementary Reads: Association of Library Service to Children
Bank Street College Best Children's Books of the Year
Chicago Public Library Best of the Best Book List
Reading Rockets Big Summer Read List
FIRST BOOK Summer Reading List
Reviews:
"Designed for early readers, this chapter book includes frequent black-and-white cartoon illustrations . . . . The few Spanish words establish the boy's ethnicity but will be understood in context. . . . An unusually appealing early chapter book." -- Kirkus Reviews.
"Benítez's line illustrations are a delight; even in black and white, they jump off the page, and children will appreciate the characters' great facial expressions. The use of varying fonts and sizes adds emphasis and is likely to appeal to even the most unkeen readers. The book is peppered with Spanish words and phrases. Engaging and fast-paced, this title will bait many young imaginations, particularly among the Flat Stanley crowd." -- School Library Journal.
"Author Jules and illustrator Benitez have given us a completely fresh character in Freddie Ramos, a Latino grade-schooler . . . . Even without his amazing shoes, Freddie's kind heart and willingness to help would make him a hero, and I think that many readers--myself included--will be rooting for him for many years to come." -- The Cybils, 2010.
"A good-humored protagonist, intriguing mystery and short, fast-paced chapters will engage kids learning to read on their own. . . . Eager and reluctant readers alike will zip through this chapter book by Jacqueline Jules quicker than Freddie in his winged shoes." -- Washington Parent.
"The setting for Freddie Ramos opens up possibilities for subtly engaging with experiences that are relatively neglected in the sunny tales targeted at the primary grades. Despite the fact that many students live in apartments and know some financial hardships, the vast majority of books for children feature middle-class families living in single-family homes. It is refreshing, then, to follow the escapades of Freddie Ramos and his friends at the Starwood Park apartment community." -- Latin@s in Kid Lit
---
See Zapato Power book trailers