Sofia Martinez Series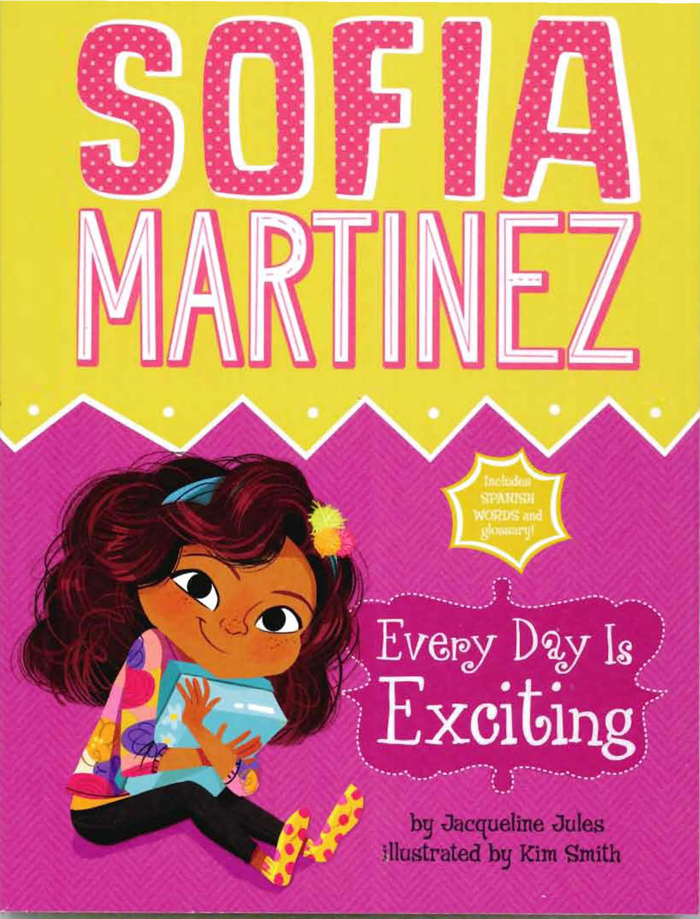 ABOUT
Growing up in a big family, 7-year-old Sofia Martinez is used to fighting for attention. Her outgoing personality mixed with her confidence and fiery passion for everything she does gets her that attention — even if it's sometimes mixed with trouble. Sofia is a little stubborn and a lot mischievous, so you can imagine the fun she creates in this early chapter book series. A few Spanish words and phrases are intermixed throughout the story, bringing the importance of Sofia's culture to life. Discussion questions, writing prompts, and a glossary complete each book.

REVIEWS
"features a highly personable elementary schooler and her tight-knit Hispanic family. . . .Spanish words and phrases, printed in pink, appear throughout the text and dialogue (a glossary is included, though most of the Spanish words are decipherable through context), and Smith's illustrations give Sofia and her family warmth and style—they look ready to headline an animated series of their own." - Publishers Weekly.
"Everyday stories reminiscent of Ramona in an early chapter book. . . . Colorful illustrations on at least every other page should draw reluctant readers . . . ." Kirkus Reviews.
"Tender relationships with immediate and extended family, and especially with her papá, result in a lighthearted, enjoyable read. . . . The inclusion of common Spanish terms and phrases lends a sense of authenticity to the characters, while the use of bright pink font to distinguish these words in the primarily English narrative and the addition of a glossary provides scaffolds for young readers." -- School Library Journal.
"The author of the Zapato Power series, featuring Freddie Ramos, here offers another early chapter book with an appealing Hispanic protagonist. . . . Smith's full-color art appears on almost every page, expressing the energy and emotions of the characters." -- Booklist Online.

AWARDS
National Parenting Publications
2015 National Parenting Publication Awards, SILVER -- Sofia Martinez is a wonderful addition to early chapter book series. Sofia has lots of spirit and even more spunk. The illustrations are fun and colorful. The author sprinkles Spanish words throughout."
Children's Book Committee at the Bank Street College of Education
2016 Best Children's Books of the Year -- "Sofia, an outgoing seven-year-old, makes every day memorable. Three stories recount her adventures with simple Spanish words interwoven into the text. Colorful, cheerful illustrations."

Sofia now available in Spanish