Board Books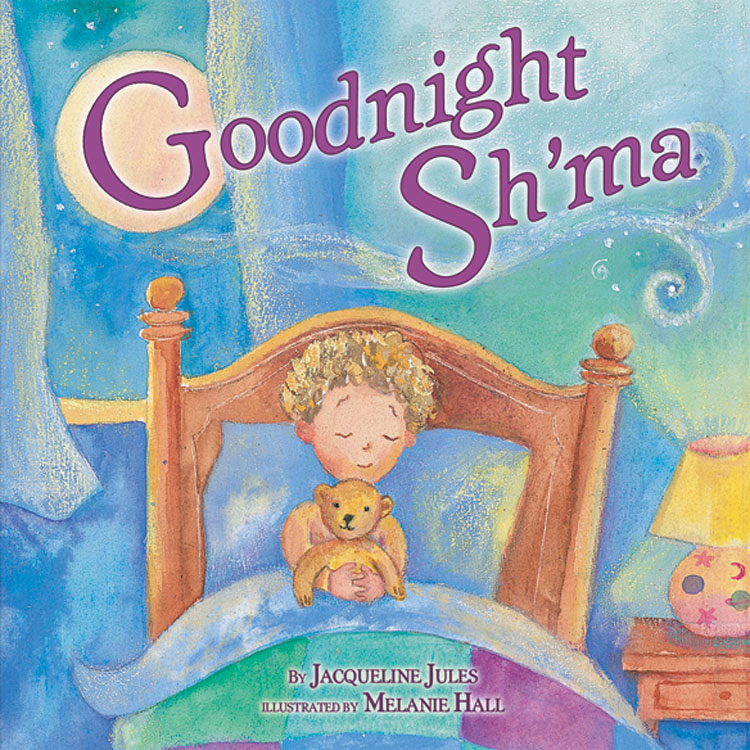 Illustrated by Melanie Hall
Goodnight Sh'ma
"I climb into bed with a book and a bear.
After my story, it's time for my prayer."
A Jewish child gets ready for bed and says the traditional Sh'ma prayer in this board book with rhyming text. Charming illustrations by award-winning artist Melanie Hall.
A PJ Library selection.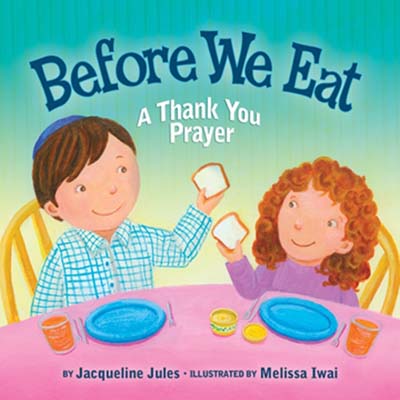 Illustrated by Melissa Iwai
Before We Eat: A Thank You Prayer
"Bread and butter on my plate.
I'm so hungry, I can't wait."
Toddlers will enjoy this charming and colorful rhyme introducing Hamotzi, the prayer of thanks recited before meals.
Includes the prayer in Hebrew, English and transliteration.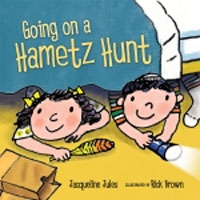 Illustrated by Rick Brown
Going on a Hametz Hunt
Little readers will have fun counting and rhyming with a brother and sister on a "hametz hunt" looking for breadcrumbs before the start of the Passover holiday.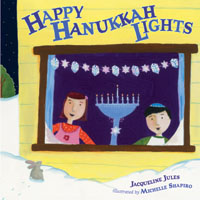 Illustrated by Michelle Shapiro
Happy Hanukkah Lights
A happy family celebrates the eight nights of Hanukkah by lighting candles, eating latkes, and playing dreidel in this new board book. Award-winning author Jacqueline Jules combines rhyme, counting, and Jewish traditions for a happy Hanukkah tale for preschoolers. Cheery illustrations by Michelle Shapiro complement the simple text.
Reviews:
"Finally, a picture book that will take its place beside Goodnight Moon as the must-read bedtime story for Jewish babies." – Jewish Living Magazine

"[Goodnight Sh'ma is a board book] that can withstand being pulled, dropped, or even chewed by an infant, who will enjoy sitting in a parent's or grandparent's lap, and looking at the pictures, and over time, absorbing information rendered in rhyme by Jules." – San Diego Jewish World

"[Goodnight Sh'ma is] a flowing and gentle read-aloud for little ones…. Melanie Hall's illustrations are dreamlike, soft, and if an illustration could be "huggable," then these fit the bill." -- Stories for Children Magazine
"The text rhymes, the illustrations are soft and dreamy, together making a lovely little book perfect for bed-time." -- Chicago Jewish Star
"A lovely addition to the Jewish board book library for young children, this rhyming text [Goodnight Sh'ma] is written by well-known author Jacqueline Jules, who has also written the Ziz series and Clap and Count." -- Linda R. Silver, AJL Newsletter Children's Book Reviews
"It's a perfect nighttime story of thanks to God for our wonderful world." -- JWeekly.com.
"The board book format is perfect for little hands, and certain to become a bedtime classic that will give comfort to young ones at bedtime." -- Jewish Book World, Spring 2009
"This charming board book containing a 'thank you prayer' will help the young preschooler become aware of and participate in family mealtime traditions. Jacqueline Jules's ability to create the perfect sing song verse is evident in this small book that introduces the Hamotzi. 'Bread and butter on my plate, / I'm so hungry, I can't wait.' This verse makes it all the more appealing to little ones. The artwork is simple, colorful and appealing." -- Feathered Quill Book Reviews, March 2010
"Jacqueline Jules has a keen ability to ground her books in the imaginations and voices of young children. . . . Part of the publisher's Very First Board Book series, [Before We Eat: A Thank You Prayer] should be considered for every Jewish early childhood collection." -- AJL Newsletter, February/March 2010.
"The verse can be easily memorized and used at home as well as at school. [Before We Eat: A Thank You Prayer] is highly recommended for pre-readers up to age 3." -- Jewish Book World, Fall 2010.
"Before We Eat: A Thank You Prayer is a straightforward, charming and peaceful board book that introduces the Hamotzi blessing to young children . . . ." -- Ottawa Jewish Bulletin -- May 10, 2010.
"Children ages 1 to 4 will be delighted with this tale about cleaning house and preparing for Passover." -- The Jewish Journal, March 18, 2010.
"Award-winning author Jacqueline Jules has created a wonderful little board book for young toddlers about the preparations for Passover." -- AJL Newsletter, September/October 2010.
"The joy of Hanukkah is felt on each and every page of this lovely little board book." -- Feathered Quill Book Reviews, September 4, 2010
"[Happy Hanukkah Lights] has lovely sing-song rhyming text with just one sentence per page (perfect for a toddler)." -- TCJewfolk.com, November 23, 2010
"Unlike some other books for the very wee, it mentions Judah Maccabee, the folk-arty illustrations are appealing, and the couplets actually scan: "Our smiles spin from face to face/ Like dreidels by the fireplace." Plus the daddy is the one making the latkes. (Ages 1-4)" -- Tablet Magazine, November 22, 2010
"Short board book with simple rhyming text and cheerful illustrations." -- The Children's Book Review, November 18, 2010
"'Happy Hanukkah Lights' is a book for young children (ages 1 to 4) by an award-winning author that combines rhyme, counting and Jewish traditions into a happy Chanukah tale." -- jweekly.com, November 24, 2010
---